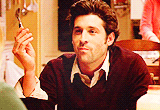 You realize it's not like Grey's Anatomy at all
Where's my McDreamy?  My slim, rocking bod'? Where's my flawless skin and hair? Where's my group of equally badass and adventurous friends?
It's all books, and greasy hair, and no time for yourself (or even makeup sometimes) and kissing up to consultants that treat you bad (well, that part the show got right.)

Hypochondria is where the fun's at (note sarcasm)
It's real, and it's debilitating, and it's stressful to deal with, especially when you're a naturally gifted overthinker; you can't help but create problems for yourself.
Every medical condition you read is somehow something you've experienced, and you can't help but diagnose yourself with each symptom (and perhaps blame all of life's problem on the disease too. No? Is it just me?)
When you're at your wits end at 6 am, learning about gastric ulcers or atypical depression, you start to blame your stomach aches and horrible mood on the stuff you read.
When you adopt a whole new vocabulary
The word stomach just doesn't fit anymore when you're talking about a stomach ache – it has to be epigastric, or hypogastric, or the umbilical region. And this is how you converse with all your friends, because if you use the term 'my tummy hurts' they look at you weirdly, and you thus, begin your alien conversation which only you two would understand.
You become more cautious while using the word depression, anxiety, mood disorder, bipolar disorder. Your vocabulary is so far extended that you wonder how many more words you can learn without bursting. Seriously bro, do you even Pharmacology?
Some interesting words I found: Dysdiadochokinesia, chloramphenicol, Sphenopalatine ganglioneuralgia, omphalocele, and probably every drug in the pharmacology textbook.
Your friends are getting married or graduating
Everyone around is moving on with their lives. In contrast, you feel stuck in a rut. A monotonous life sucks. And it sucks even more, when that routine is overbearingly stressful.
All you want to do is be pampered by your significant other or plan a honeymoon, but hey! That patient in Examination Room 5 needs a Digital Rectal Examination.
But you wouldn't give it up for the world
As bad as it sounds, there's nothing else you'd prefer doing. At the end of the day, we all feel like heroes, like dignified noblemen and women that are here to make a difference to people's lives. And this feeling of fulfillment trumps everything else. Power to you, Doctor Sahab!